Who'd thought Kimmy K could depict your life in 21 gifs. Well, she can. Have a read because everything is just: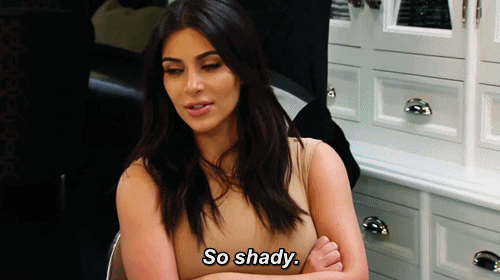 1. When someone posts a disgustingly sweet paragraph to their boyfriend on Facebook who they've been with for 4 months and 21 days
2. Phoning your BFF like:
3. When no one replies in the group chat
4. When last night's antics were a bit of a blur - we've all been there.
5. When you're sat in Starbucks a see a solid 10/10 sat in the corner.
6. When you wear hoop earrings one time
7. When you come to terms with the fact that you'll be fat forever
8. When you really need to diet but you've just found a bar of Dairy Milk in the cupboard
9. When you've been single for so long that you've just gotten desperate.
10. When it's finally payday
11. When bae finally texts you
12. When you haven't seen your BFF in ages
13. When you see that Zara have a sale
14. When a fuckboy tries to tell you that he's "not like other guys"
15. When someone suggest that you should go out for dinner
16. When you make a Tumblr
17. Going to school everyday like:
18. When someone eats your food that you were saving for yourself for later
19. When the beautician waxes your eyebrows too thin
20. What you gotta tell yourself everyday:
21. When the squad starts roasting you on the group chat
And they say she has no talent, pfft.
Thanks for reading!
To contact me, or for business related inquiries, please feel free to email me at bethany@bethanyemerton.com